When we arrived at Positano, I was dying to go to the beach and swim. I hadn't gone swimming since Lake Como! But first we had walk up (guess what?) stairs. Our house was up the hill and down some more stairs. So we waited outside the shop next door, not knowing where it was and we had to call the owner and see where it was, when it was right next door!
Once we got to the place, we put our swimmers on and went to the beach. The water was really clear. You could  even see the bottom from the surface when it was 7 meters deep! Okay, I might be exaggerating, but it was pretty spectacular. 
We swam for pretty much the whole day, so we had dinner down by the beach  at a resturaunt called Da Ferdinando. I got calamari, Chloe got lasagna, Luke got pasta with tomato sauce, dad got a seafood thing, and Bel got local sea bass.
Then, it was the best part… DESSERT. Chloe, Luke and I got "Cuppa Gelato", 3 scoops of gelato of any flavour that they have, dad got pear cheese cake and bel got apple crumble. But the bill was about € 180 ($269.982). Expensive, but delicious.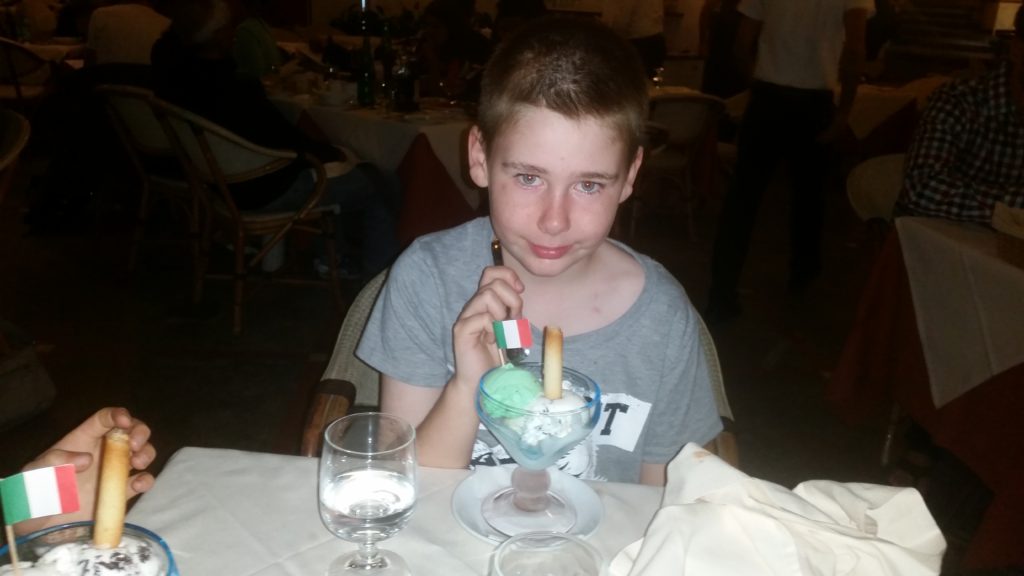 We did that pretty much the whole of Positano. Get up, swim, eat gelato,  swim, eat lunch, swim. It was all the same until the second last day…
On the second last  day, we went to Pompeii. It was really cool how the people got mummified from being under eight – nine feet of ash and how the buildings got completly wrecked. It was sad to see a little kid mummified though.
Most of the areas were blocked off in Pompeii, so I was a little bit disappointed about that, but it was fun nevertheless. We went to a place in the middle of Pompeii to have lunch. Luke and I kept calling it ancient food; and if it was, then I HATE ancient food.
It was the most horibble pizza I had ever tasted! Chloe let me try one of her chips. I regret saying yes. They had an aftertaste of WEE!!!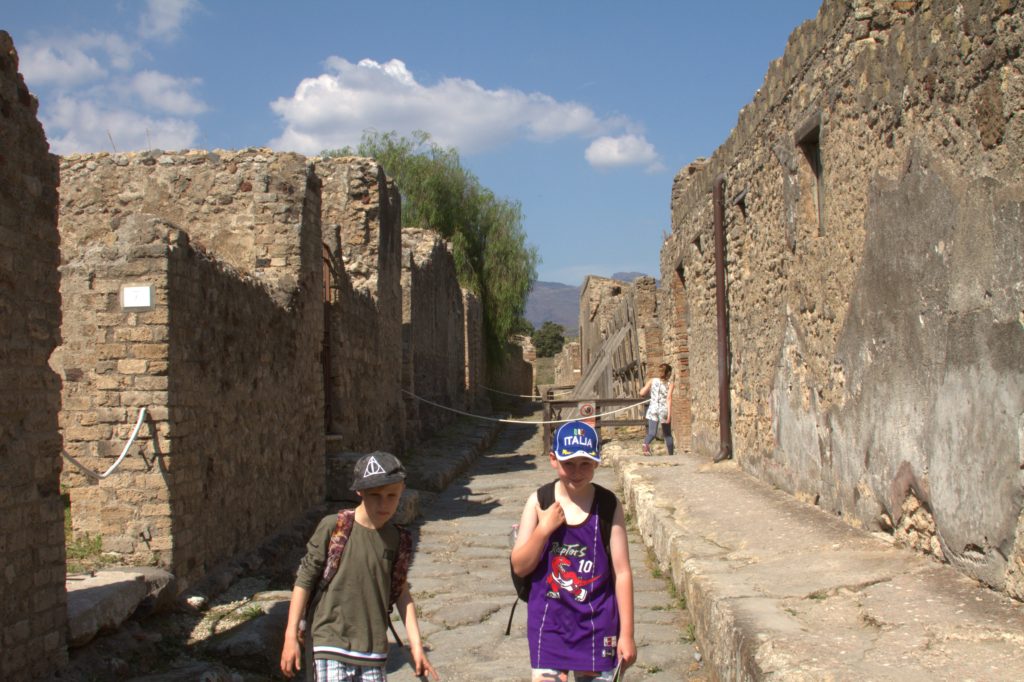 Learn more about Pompeii.http://zeki.eurotrip.website/2017/10/02/pompeii/
We missed our train back so we had to take the next one, but we were in a huge rush to get to the last ferry, so we paid € 30 to get a taxi down the hill, and guess what??? THE FERRY WAS CANCELLED!!! So we had to take the bus back to the train station, which we had just paid € 30 to leave, to catch ANOTHER bus to Positano.
The next day, we left for Rome…..
TO BE CONTINUED……