Thursday
Thursday night we got to Venice and I was really pumped up about it. I couldn't wait to go on a water bus or a gondola. Once we got off the train, we caught the water bus straight to San Marco to get to our apartment.
While Chloe, Luke and I were waiting for the lady to drop off the keys, we saw a really, really, really good artist drawing realistic portraits with charcoal. I really wanted to get one, but dad said we can get one tommorow (but we didn't).
Friday
We started wandering around in the morning and Chloe, Luke and I tried to photobomb people, but when I tried to photobomb one person, it backfired. The person I photobombed and his wife started hugging and pinching cheeks and all of the stuff grandparents and relatives from overseas that never see you do. I was so embarassed!!!!!
After that, we went on a gondola. It was a great experience. I felt like I was going to fall out a couple of times though, because most of the weight was on one side so that the gondoleir could keep his balance. I found out that gondoliers actually wear black & white shirts, just like in the movies!!!
Then we went to Murano to see the glass factory (and have lunch). Once we got to the glass factory, the peson they called "The Master" showed us how to make a vase using the blowing technique. Then we got some presents (I'm not going to tell you what it is. Hee hee hee).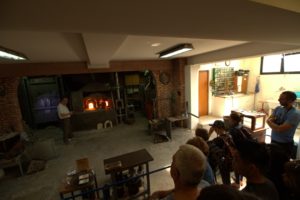 It was lunchtime by the time it finished, so we got lunch. Luke and I got ravioli w/cheese and bacon, Chloe and Bel had salad and fries and dad had a big salad w/olives, ham, tomato, boconccini, carrot and leafy greens.
Once we got back to San Marco square, we looked everywhere for a lolly shop. But we couldn't find one so we got gelato instead. Dad got a little bit frustrated because we couldn't find the shop that we saw on Thursday that had smurf icecream.
Overall, I think that Venice is a beautiful country because of all of the views (e.g: The grand canal).